Academe of the Oaks High School- East Decatur- 146 New St
Neighbor: Academe of the Oaks
Operator: Eva Handschin & Ben Roosevelt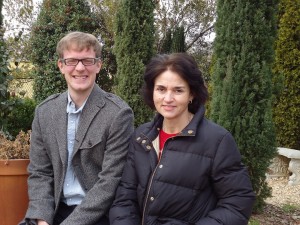 Neighborhood: East Decatur Station
Business Address: 146-148 New Street
Website: academeatlanta.org
A Waldorf education encourages students to develop into clear thinkers, compassionate people and life long learners. With such an intelligent and fulfilling pedagogy, it is no wonder that Waldorf schools are rapidly popping up across the globe. Established in 1919 by Austrian philosopher Rudolph Steiner, the number of schools now nearly reaches 1000.
Just like its counterparts worldwide, Decatur's own Waldorf high school, Academe of the Oaks, is experiencing growth. The school recently acquired an adjacent property and will add three more classrooms to the campus next year. The expansion is not only a sign that parents and students are drawn to the Waldorf philosophy, it also shows that Academe of the Oaks understands relevant education.
In lieu of dry textbooks and fleeting rote memorization, Academe uses fresh methods that are rigorous and stimulating but rarely stressful or monotonous. For example, Ben Roosevelt, a humanities teacher, does not teach the American Civil War with a heavy, expensive textbook, but with a variety of historical biographies.
"The students get the facts, but they will also experience it," Roosevelt explains.  "I don't give them interpretations. They interpret it themselves."
In addition to the humanities, the Academe curriculum thoroughly stresses math and science, which are taught with a hands-on emphasis. The school also boasts high marks in the realm fine art. Everything from ceramics and painting to beekeeping and blacksmithing is offered.
"The arts are not a frill," says Eva Handschin, administrator and co-founder of the school.  "Working with your hands helps you think better. It is so important for students to learn to express themselves."
Being one of the first institutions to arrive at East Decatur Station, Academe of the Oaks has enjoyed watching new neighbors blossom. Many of the students ride the MARTA train to school, and upperclassmen enjoy the option of off campus lunches at Duck's Cosmic Kitchen and Figo Pasta.