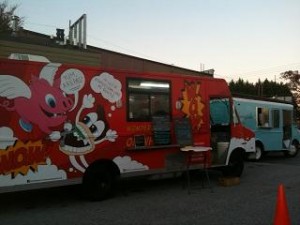 For years Duck's Cosmic Kitchen has been filling up the East Decatur Station Courtyard with hungry lunchtime eaters during the week Tuesday-Friday, and the leisurely diners on Saturday out for a tasty brunch. From sandwiches served on fresh baked bread to the daily specials, Duck's has continued to be a lunchtime spot for the community and the patrons who frequent.
After teaming up with Wendy Cross, Duck's has now gone mobile – " literally!! Inspired on a trip to New York after eating at a local arepa bar, Wendy Cross was determined to bring the scrumptious Venezuelan stuffed corn cake to Atlanta. With the help of the ladies at Duck's the WOW! Food Truck was born. Now you can spot the bright red WOW! Food truck at various locations around Atlanta serving up arepas and other small dish items; Including on Thursday nights in the New St East Station Decatur parking lot near Duck's Cosmic Kitchen. To top things off Wow! Food Truck will be featured on an upcoming episode of the hit show, Eat St, on the Cooking Channel.
As if serving lunch and truck's in it around Atlanta wasn't enough, Ducks has extended their hours and is now open on Mondays. Plus, they now open at 8am Monday-Friday for breakfast. Finally a place to get coffee in the morning at EDS!!
Don't forget this holiday season as you are scrambling around to plan your meals for your holiday events that Duck's also does catering! They offer an extensive catering menu for all your special events.
For more on Duck's Cosmic Kitchen and the WOW! Food Truck visit: www.duckscosmickitchen.com and www.wowfoodtruck.com to view their full menus and the WOW!Food Truck schedule to know where they will next be serving up their famous arepas around Atlanta.