The colorful window display that catches your eye at Acme, 533 W. Howard Ave, is the home of Atlanta Wedding Loft. The Wedding Loft offers a creative space for some of Atlanta's most distinctive wedding professionals to meet with brides and grooms for all their wedding needs. The idea for the Wedding Loft evolved from an idea that the owners of The Decisive Moment came up with while looking for a place for their photography business. It was important for them to keep their overhead cost down so they would not have to increase the price for their clients. Realizing that they were not the only wedding vendor faced with this problem, the idea of The Atlanta Wedding Loft was formed.
Made up of 18 individually owned wedding vendors, The Wedding Loft is now a meeting place for such vendors as Faith Flowers, Exquisite Events, Circle of Love Wedding, Sun in My Belly, and several other great wedding vendors. They of course are always looking to add new companies to the group to expand their selection of vendors. On any given day, couples can set an appointment with the necessary vendors to discuss all their wedding needs whether it is meeting with a planner, doing a cake tasting, meeting to discuss the photography, or even helping you to find the perfect look with a makeup trial.
With an assortment of talented vendors, Wedding Loft teamed up with their vendors in June 2011 to put together the "I Do Thank You Wedding", a contest for military couples. The contest was created as away to say"thank you" to the many men and women who serve in the US military. The lucky and deserving winners were Chris and Amanda. Chris, an active member of the Air Force and Amanda, the owner of MissYourVoice, a company established for military service people and families to send care packages and mail to deployed military members. On November 19, 2011 Chris and Amanda said their "I do's" at their fabulous wedding created by The Wedding Loft's many vendors that helped plan their special day. Everything from the gown, flowers, food and entertainment were all donated for their wedding. For the full story and to view all the pictures from their wedding day, visit http://www.ido-thankyou.com/.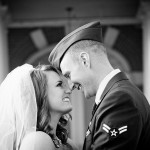 The Atlanta Wedding Loft is clearly the perfect "all in one" location for couples to meet the various wedding vendors needed for planning their wedding day. The Atlanta Wedding Loft is not only passionate about the wedding services they offer, they are also passionate about giving back and helping others. For a full list of the Wedding Loft vendors or to make an appointment visit: http://www.atlantaweddingloft.com/#/splash/