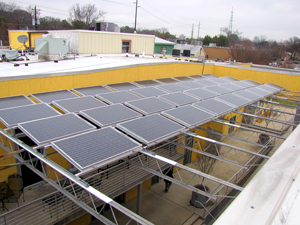 Jack Honderd calls East Decatur Station an earth-friendly development in an earth-friendly city.
Honderd and his partners showed their commitment to that mantra with the powering up recently of one of the largest commercial rooftop solar arrays in metro Atlanta. Radiance Solar, an Atlanta-based firm, installed 531 solar panels on the buildings that comprise East Decatur Station.
"We recycled these buildings,� Honderd said. "We wanted to make this development as complete as possible so you don't have to get into your car to get anything you need. We promote riding bicycles to work or taking MARTA. The next step was producing solar power.�
The 147-kilowatt installation produces enough energy to power 15 homes, said Radiance Chief Executive Officer Jack Marlow. The panels produce nearly 200,000 kilowatt hours of energy annually and the system is expected to offset energy costs at East Decatur Station by as much as 20 percent.
"It's about reducing the environmental impact,� Marlow said. "We're big in the community about promoting clean air and clean water. It's what gets us up in the morning.�
The panels are manufactured in the United States, Germany and Japan and are placed on the rooftops and awnings of the East Decatur Station complex. The panels on the awnings are bi-facial, meaning sunlight is captured from above and below.
The $800,000 installation cost was made possible by a grant from the Georgia Environmental Finance Authority, which provided a rebate for the photovoltaic installation. Federal grants paid for 30 percent of the costs, the state grant paid for 35 percent and East Decatur Station footed the bill for the remaining 35 percent.
"People want to see things change and we're looking for ways to make a difference,� said Decatur mayor Bill Floyd. "We don't want to have to rely on foreign oil. This is what is available now and it's a good first step for the city. Decatur had one of the first sustainability programs and we're pleased to be an example of what can be done.�
Harnessing solar energy is not as popular in the South as it is in other parts of the United States or around the world because electricity rates are relatively low in the South, Marlow said. New Jersey and California are the leading U.S. producers of solar power.
"We need folks like East Decatur Station to move ahead with solar energy,� said Radiance Chief Operating Officer Jamie Porges. "It will become more popular in the months and years ahead.�