With its two spacious rooms, exposed brick walls, cozy couches, and smiling stylists, it's clear why Heather Weaver describes her and partner Rick Burleson's full-service hair salon, Grow Salon, as a "welcoming and unpretentious environment." However, behind this relaxing space is a tragic story. In June of 2004, Heather and Rick received a shattering late-night phone call – Grow Salon was on fire. The blaze at Grow Salon's then West College Avenue location began as an electrical fire in an adjoining restaurant, the flames eventually destroying the salon along with several other businesses. There was nothing left, Heather remembers. Well, almost nothing. The only salvageable items from the fire were pairs of hair-cutting scissors.
Those scissors were, perhaps, the perfect symbol for what would happen next. Despite the fire, Grow Salon's stylists kept on cutting hair – in the back of another salon, in homes, even in a park. The Decatur community also came together to support Grow Salon and the other businesses affected by the fire, organizing a Fire Fest to raise money. Grow Salon's stylists were able to keep their clients, and Heather and Rick began to look for a new space to rebuild.
After a three-month search, they chose EDS to begin again. Heather describes the salon's new space at EDS, located within the same supportive Decatur community, as "architecturally beautiful." She loves the feel of the development with its variety of businesses, outdoor corridors, and courtyard. The location is also close to downtown Decatur but without the downtown area's limited parking, and the salon has high visibility from College Avenue, all of this making client's visits to Grow Salon stress-free.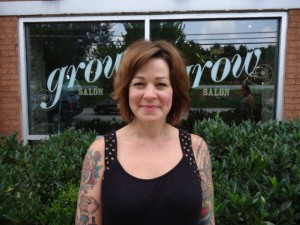 In 2009, Heather and Rick added a comfortable lounge area where clients can sip tea and coffee or even a glass of wine or beer as their hair is transformed. They are also excited to add more stylists to Grow Salon. Heather sees Grow Salon's work environment as key to pleasing clients. All of Grow Salon's stylists are trained at the Bumble and Bumble University in NYC, and this extra support translates into happier, more satisfied clients. It's been six years since Grow Salon's old location was destroyed, and at EDS, Grow has not only recovered but, true to its name, grown.