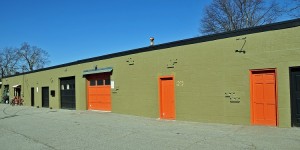 When a bakery moved from the 141 New Street buildings where Ruth and Shawn Vinson have a studio, Ruth was happy to take some of the bakery's unwanted bread racks. She put them to use holding paintings, the smell of freshly baked bread lingering in her studio for weeks. When Ruth, a painter, and her husband Shawn, a photographer and art dealer, first started working in their studio, other than the bakery, their neighbors were mostly mechanics. However, like the bread racks, much of the 141 New Street buildings would eventually become repurposed for artists, many with deep ties to the city of Decatur.
Ruth's ties to Decatur began when she met Shawn at an artist's colony in Florida. Shawn, who is from Georgia, and Ruth, who is originally from England, moved to Decatur after they married, and the two opened a gallery on the Decatur Square. Although their Decatur Square gallery is now no longer opened, their 141 New Street studio still gives them a space to work and display art within the Decatur community.
Both Ruth and Shawn even feature Decatur in their art-Shawn was commissioned to take the photos that now appear on this EDS website. And although she often paints figures, Ruth describes her art as having "a wide variety of subject matter," and she has painted many of downtown Decatur's buildings, including commissioned paintings of homes and paintings of the Brickstore Pub and the Squash Blossom boutique. The area's burgeoning film industry has also brought opportunities for her art to appear on screen in such shows and films as Vampire Diaries, Drop Dead Diva and Mean Girls 2.
A few spaces down from Ruth and Shawn's studio is another artist with a long history in Decatur. Musician Papuna Kordzaiia began managing Decatur's Emile Baran Instruments eighteen years ago. This is when he met Emile Baran, a Navy veteran and former Druid Hills high school band director who opened several music supply stores in the mid-fifties. Emile and Papuna have became familiar faces to local middle and high school students and their parents-Emile Baran Instruments and the adjacent DeKalb Music provide most of the area's orchestra and band students with instruments.
Emile Baran Instruments sells and repairs stringed instruments-violins, violas, cellos and basses. The shop is a live/work space for Papuna, its walls hung with polished violins and bunches of horse hair for repairing bows. The space also has a stage which is used on Monday nights for a jazz jam open to the community. DeKalb Music sells electric and bass guitars, acoustic and percussion  instruments, keyboards and woodwinds. DeKalb Music's space at 141 New Street includes several smaller rooms where private music lessons are held.
Across from DeKalb Music and Emile Baran Instruments is painter William Felt. William's live/work space is open and large enough for him to park his car inside. William, a GA Tech graduate, became interested in visual arts after taking a mechanical drawing class. Although he has previously worked in acrylics, his studio now gives him room to begin working with oil paints. He explains that moving from acrylics to oils "makes blending colors easier." He is currently building up a collection of oil paintings and hopes to have a showing in a few months.
On the same side as William, but in a separate building, is artist Erin Smith of Erin Smith Art. Erin Smith Art has been in Decatur for half a decade. Erin decided to move to 141 New Street because she needed more space.  Erin creates and sells wall art, greeting cards, magnets, party supplies, and jewelry. The New Street location, she explains, "has enough space for us to produce our canvas giclees, ship our greeting cards, pack our party products, make our jewelry, store our licensed products." And she adds that they "still have room for UPS and FedEx and delivery trucks!"
This ample space and 141 New Street's central location in Decatur have attracted many others from the area. The building's tenants now include photographer Drew Strauss, carpenter Chris Erickson, filmmaker Alex Gardner with Smart Aleck Films, designer Susan Knight with Simple Nests, CertaPro Painters, and tortilla maker Mauricio Diaz with Blue Corn Brands. In the five years since Ruth and Shawn first opened their studio, 141 New Street has truly evolved into an eclectic mix of artists and craftsmen.