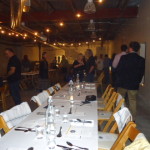 Friday night East Decatur Station was buzzing with local foodies and members of Dinner Lab. New to Atlanta, Dinner Lab is a membership-based "social dining experiment". Members can enjoy weekly dinners, held in new locations with a different chef and a new menu each time.
East Decatur Station had the privilege to host the latest dinner in one of the vacant office spaces, currently available for rent. The 3300 sqft space of unfinished concrete and barren white walls transformed into a tranquil setting with candle lit tables, a small bar and a makeshift kitchen. Making you feel as though you just walked into Decatur's newest trendy restaurant. The menu was prepared by the guest chef, Matt Kopfler, a chef out of New Orleans who owns L'Enfant Terrible Catering Company.
"Palette Meets Palate" was the theme for the menu. A five course meal inspired by color…..
First Course – Yellow/ Bitter
Seared duck liver
Second Course – Clear/kokami
Shrimp & Celery consommé
Third Course – Red/Umami
Corn-fed ribeye roll
Fourth Course – Brown/Sweet
Chocolate grits
Fifth Course – Orange/Fresh
Coriander granita
Paired with various drinks, each course was unique mix of flavor and color that pleased the palate!
A dining experience one would not forget! Dinner Lab is a unique dining experience that
would excite any foodie!
If you are interested in becoming a member or for more information on Dinner Lab visit their website at: http://dinnerlab.com/index.html