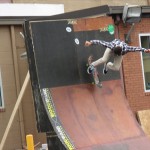 After 10 years of raising money for the Pediatric Brain Tumor Foundation, SkaterAid has come to an end. In their 10th and final year, SkaterAid, had the best year yet! Raising almost $52,000 at this year's event.
A big money raiser this year was a deck art up for auction, painted by a local artist of the Genie from the Disney film, Aladdin.  The deck was autographed by the actor and voice of the Genie, Robin Williams.  There was also a picture of the artist and Williams together with the deck in hand.
With such a successful year, SkaterAid, was able to reach their goal of raising $200,000 over the past 10 years for the cause. Not only did they meet their 10 year goal, but they surpassed it, raising $218,555 in the last 10 years!
Way to Go SkaterAid for a successful 10th and final year!! We'll miss you!