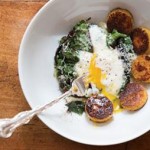 Author and neighbor of East Decatur Station, Rebecca White, shares her version of a favorite family recipe in this month's Atlanta Magazine. Poached Egg with Greens and Cornbread Croutons,  a Southern delight!
To make this recipe at home visit:
http://www.atlantamagazine.com/recipes/2013/10/01/susan-rebecca-whites-poached-egg-with-greens-and-cornbread-croutons
If you enjoy Susan's cooking you may enjoy her latest book, A Place at the Table. A story of three people who's lives and cooking bring them to a Manhattan Cafe.