May is National Bike Month, and Decatur is doing it's part to participate in the month long event so grab a helmet and start pedaling!!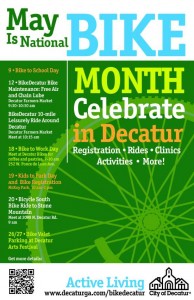 Here are a few of the rides you can join this month:
May 9th is Bike to School Day.
Children throughout the city are encouraged to ride their bicycles to school and when they arrive will be greeted by parents who will be handing out special Bike to School Stickers and bookmarks. Bike to School Day is intended to get children and their families to ride to school and discover just what a great way this is to start the day, as well as to eliminate cars from around the school. For more information on Bike to School Day, visit www.walkbiketoschool.org.
May 12 – " BikeDecatur Bike Ride and Maintenance
Join BikeDecatur at the Decatur Farmer's Market on Saturday May 12 from 9:30 until 10:30am for free air and lubes for your bicycle. Then at 10:30am riders will depart for a 10 mile leisurely ride around Decatur, suitable for all ages.
May 18 is Bike to Work Day
Ride your bicycle to work on Friday, May 18 and be sure to stop by Decatur Bikes between 7 and 10am for complimentary coffee and breakfast snack. Meet up with a group of riders and bicycle together. You may want to stop by Decatur BIkes, and then make your way over to Bicycle South for more coffee!
May 19 – " National Kids to Park Day
Decatur will celebrate National Kids to Park Day with Bicycle Registration at McKoy Park. Register your bicycle with the Decatur Police Department. Registering your bike will help it be returned to you in the event that it is lost or stolen. Enjoy riding your bicycle in a safe environment and learn some bicycling safety skills as we will block off the upper parking lot of McKoy Park for bicycle only riding. Enter on Spring Street.
May 20 – " Bicycle South Bike Ride to Stone Mountain
Join the folks at Bicycle South for a no-drop ride to Stone Mountain. The riders depart from Bicycle South at 9am, 2098 North Decatur Road. The ride is suitable for all levels. For more information, visit www.bicyclesouth.com.
May 26/27 – " Bicycle Valet Parking at the Decatur Arts Festival
Ride your bicycle to the Decatur Arts Festival and enjoy free valet parking sponsored by Bicycle South and the City of Decatur. The Atlanta Bicycle Coalition will provide volunteers who will secure your bicycle while you enjoy this great community festival.