As the last day of spring faded into summer, East Decatur Station (EDS) came alive with local art, music, food and beer for The Big Pop Up event.  The event was sponsored by The Decatur Arts Alliance & City of Decatur as a part of the "Keep It Indie-Catur" initiative to support local businesses.
The flavor of the evening was all homegrown: craft brewery tastings by Blue Tarp Brewing Co., tasty summer snacks with a twist from Duck's Cosmic Kitchen.  The owner of The Corner Pub made it a family affair as his kids helped him serve chicken wings fresh off the grill.   The Marlay House rolled in their food truck and the King of Pops set up shop for the evening.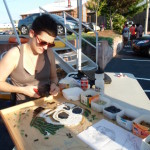 Live music filled the air as Decatur residents and neighbors browsed stalls set up by local artists and business owners.  Patrice Eastham of SkaterAid converted her studio into an art gallery featuring local artwork while artists from the Mosaic Art Supply worked on mosaic pieces throughout the evening.
"The only thing better than the great summer weather we had was to see the EDS tenants come together with local artists and neighbors to have a good time," said EDS partner Pat Murphy.
The communal greenspace and the colorful open air walkways made the perfect setting to enjoy the summer evening.  The event truly showcased the eclectic community that has emerged at EDS and embodied the unique live-work-play culture that is thriving in Decatur.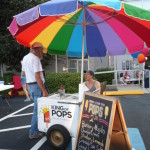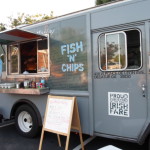 A big thank you to everyone who came out to play!